Tahini or sesame paste is a versatile type of paste commonly found in healthy and delicious dishes. Due to its exceptional health benefits, it's considered as an excellent food companion. Packed with vitamins and minerals, tahini has always been a favorite even in the ancient times. That's why, tahini chicken recipe is such a fad right now!
Tahini can be paired with almost every dish. It tastes like a mix of Asian and Mediterranean sauce but is made of sesame seeds. From hummus to salads, sandwiches and some common meats, tahini is a super food.
Chicken, as one of its companions, creates almost a perfect match with tahini. Both chicken and Tahini is an excellent source of protein and essential vitamins and minerals. Chicken is an affordable source of high-quality protein and other vitamins that support your immune system. It also guards off depression and reduces the risk of cancer. Chicken's healthy benefits are almost identical with tahini.
Aside from its healthy components, the combination of tahini and chicken creates a delicious dish to include in your diet. You can either use a fresh batch of chicken or leftovers in making tahini-chicken recipes. It's quick and easy to create your chicken recipe together with tahini paste.
Here are some of the healthy and tasty recipes you can do personally with tahini and chicken.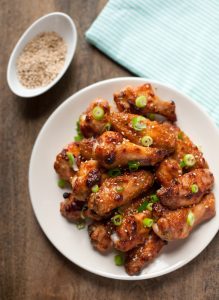 Tahini Chicken Recipe
Ingredients:
¾ cup               chicken broth (fat-free)

¼ cup               tahini

2 tablespoons   soy sauce

1 tablespoon  

honey

1 clove              garlic

2 teaspoons   

freshly grated ginger

1 teaspoon     

hot pepper sauce

2 cups               cubed cooked chicken breast

4 cups               cooked brown rice
Directions:
Place the chicken broth to a boil in a 2-quart saucepan over medium heat. Turn heat to low.

In a bowl, mix tahini, honey, garlic, ginger, hot pepper sauce, and soy sauce. Mix until all of the ingredients are integrated with each other.

Brush in the mixture on the chicken until smooth.

Place the chicken, stir and cook through.

On a plate, serve the cooked brown rice. Top the chicken and let the sauce drip on the rice.

Eat like there is not tomorrow!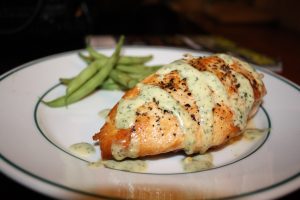 Lemon Tahini Chicken Recipe
Ingredients:
3 pieces           chicken breast

2 tablespoons

tahini

1 tablespoon  

minced garlic

2 tablespoons

fresh chopped cilantro

¼ cup              olive oil

Lemon slices

Himalayan salt

Lemon juice (one lemon)
Directions:
Preheat the oven to 400 ⁰F.

In a baking dish, put the chicken breasts and brush each with olive oil.

Top the chicken breast with garlic, cilantro, salt and lemon slices. Bake in the oven for 20-25 minutes.

Combine lemon juice and tahini together in a small bowl. Brush tahini sauce over baked chicken.

On a plate, serve rice and put some lemon slices on top of it. Put the baked chicken on top of the rice. Drizzle it with some left over sauce.

Enjoy the zesty chicken!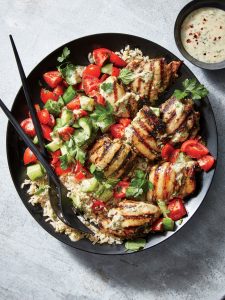 Spiced Tahini Chicken Recipe and Cucumber Salad
Ingredients:
1 medium        

finely chopped cucumber

¼ cup               finely chopped parsley

3 tablespoons   lemon juice (divided)

4 tablespoons

olive oil (divided 1 + 3)

1 ¼ tablespoon salt

¼ cup                tahini

3 tablespoons   water

4                       chicken breasts, sliced

1 tablespoon  

cumin powder

1 tablespoon  

coriander

½ tablespoon

cinnamon

¼ tablespoon

pepper (to season)

2 mediums      

minced onions
Directions:
Mix chopped cucumber, chopped parsley, 1 tbsp. each lemon juice and olive oil and 1/8 tbsp salt in a medium bowl.

Mix and stir tahini with water, 2 tbsp. lemon juice, 1/8 tbsp. salt in a large bowl until smooth.

Place chicken breasts with cumin powder, coriander, cinnamon and ¼ tbsp. salt in a large bowl until coated. Season it with pepper.

Heat non-stick frying pan over medium-high heat. Place 2 tbsp. olive oil then chicken. Stir and heat for 4 to 5 minutes until no pink remains.

Transfer chicken to a plate.

Add remaining tbsp. of olive oil, sliced onions and remaining ¼ tbsp.. of salt to the same pan. Cook and stir for 4-5 minutes until onion is brown.

Return chicken to pan. Stir and heat through for about a minute. Divide cucumber salad and chicken into four. Drizzle tahini sauce and serve.

Eat and be healthy!
You can also create your own tahini-chicken recipes with the given recipes as a guide. Now you can enjoy a tahini-chicken dish in a delicious and healthy way. Tahiniciously delicious!