What you need:
2 teaspoons sesame seeds
1 garlic clove (grated)
1/4 cup Windy City Organics Dastony Organic Sesame Tahini 16 oz Pack of 1
3 tablespoons fresh lemon juice
1 small head cauliflower (cored & cut into large florets)
6 tablespoons olive oil
2 tablespoons raw pumpkin seeds
1 teaspoon nigella seeds
2 whole small Spanish mackerel (about 1 pound each, insides and head removed)
1 lemon (sliced & seeds removed)
1/2 cup pomegranate seeds
1 bunch thyme
1/2 cup fresh cilantro leaves with tender stems
Procedure:
Heat 2 tablespoons oil in a large heavy skillet over medium high. You can work on batches if you want, to make sure that the cauliflower is cooked evenly. Keep tossing them for at least 5 minutes each batch. Transfer to a large bowl and let cool. Turn off the stove, but keep the skillet there, as you will use it again later.
Divide the cauliflower on 4 equal parts, and pulse into a food processor. Pulse it until the grains are the size of rice grains. When done, put in a bowl, add salt, pepper and some lemon juice. Gently toss.
Toast the pumpkin seeds in the skillet, adding just a tablespoon of oil. Make sure to gently toss them, to evenly cook them. Keep tossing for about one minute. Put in a bowl, add salt, sesame seeds and nigella seeds.
Rub the fish with oil, and season with salt. Stuff the fish's cavity with thyme and remaining lemon. Place the fish on a baking sheet that's rimmed.
Place the baking in a heated broiler. Broil the fish, 6 minutes each side. Place in a platter to let it rest for 5 minutes.
Arrange the fish,and cauliflower onto plates. Drizzle the fish with the tahini sauce misture. Add seed mixture and pomegranate seeds. And sprinkle with salt and pepper for taste.
Summary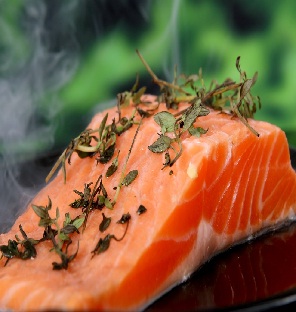 Recipe Name
Tahini for Mackerel and Cauliflower
Author Name
Published On
Preparation Time
Cook Time
Procedure
Ingredient
Total Time