What you need:
Vegetable oil spray
3/4 cup white tahini from Roland Organic Tahini 16 oz.
1 teaspoon kosher salt, divided
1 cup roasted sesame seeds
3/4 cup black tahini
1 1/3 cups sugar, divided
A candy thermometer
Procedure
Coat an 8 1/2×4 1/2″ loaf pan with vegetable oil spray. Line the loaf pan with parchment paper, and make sure to leave a 2″ overhang on long sides. On your work surface, place a sheet of parchment coated with vegetable oil. On a mixer, pour the white tahini and 1/2 teaspoon of salt. Beat the mixture until smooth consistency is achieved. Set aside.
In a two separate small sauce pans, place 2/3 cup of sugar and 1/4 cup of water each. Set each saucepan over low heat, and continue stirring until sugar is dissolved. One of the saucepan should be kept at low temperature, while the other is turned on medium high. For 10 minutes, make sure to keep stirring.
Slowly our the syrup unto your white tahini mixture. Mix the two on your mixture at medium speed. Continually mix until a smooth mass is achieved. Pour the mixture unto the prepare parchment and flatten it with a spatula.
Rinse any hardened sugar off thermometer; clip to second saucepan. Increase heat to medium-high and cook syrup, brushing down sides of saucepan with wet pastry brush, until thermometer registers 248°F, about 4 minutes.
While the syrup is cooking, briefly beat black tahini and remaining 1/2 tsp. salt in the same bowl of stand mixer until the same smoothness of the first one is achieved. Stream in syrup and mix just until halva comes together in a smooth mass.
Pour the black halva on top of your white halva. Again, flatten it with spatula. Using the sides of the parchment to lift edges, fold stacked halvah in half and flatten slightly. Repeat the process at least 4–5 times, making sure to rotate the halvah as you work, to create a marbled effect. Make sure not to overdo it, so as the halva won't end up crumbly. Press into prepared pan. Fold sides of parchment paper over top of halvah and let cool, at least 3 hours.
When done, lift your halva out of the pan. You can easily do this by pulling the parchment overhang. Peel the parchment away, and cut according to your desired sizes. And you're good to go.
Summary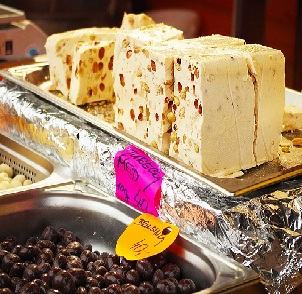 Recipe Name
Black And White Tahini Halva
Author Name
Published On
Preparation Time
Cook Time
Procedure
Ingredient
Total Time
Average Rating





Based on 1 Review(s)