The Tahini is a kitchen staple for people who live and have lived in the Middle East. The rest of the world though is unfamiliar with this amazing food. Only a few of Non – Middle Eastern people are familiar with it. People who might have had it during their visit to the Middle East, or have tried it alongside with salad at Middle Eastern Restaurants. So, what are the best tahini brands that you can buy on the market?
The paste or sauce is gaining popularity among food enthusiasts these past few years. Still, most are apprehensive in trying it. Let me tell you something though, Tahini is something that is worth to try in your dishes. You can practically use it at every meal – from breakfast to dinner, and even snacks.
I probably have your attention now, right? You are probably wondering what the best Tahini Brands that you can try are. Hundreds of brands are available worldwide, and as someone who is unfamiliar with the food, it can be confusing. Fret no more; I will enumerate here the Best Tahini Brands and why they are considered to be part of this list.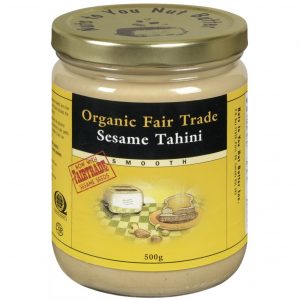 First on our list is the brand of Nuts to You. The Nuts to You Tahini is widely available in Canada as this is Canadian – made. The brand offers a wide variety of nut and seed butter. This is the widely used brand for different of recipes. You can use it like how you used other seed and nut butter. You can also make salad dressings, chip dips and tasty sauces using this one.
They have made it using organic sesame seeds that were grown in Nicaragua unlike other brands. The seeds are mechanically hulled and dry roasted. it is certified to be purely organic by the QAI or the Quality Assurance International. They have not added salt, sugar or tropical into the mixture. It is gluten, soy, wheat, and dairy free. It is also a good source of calcium, iron, magnesium, vegetable protein and even phosphorus.
The color of the paste or butter is caramel or light beige. It is thick and dense in texture. The flavor is medium- sesame and is slightly bitter, but with a hint of nuts.
If you want to try something that is purely organic, then this is for you. It may not be easily accessible where you live just like most brands, but it is widely available on the web. It is a great product and I would give it a 5 out of 5 rating.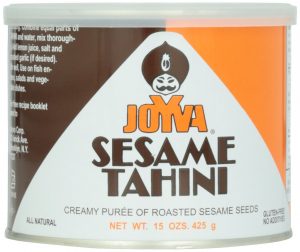 The second on this list is the brand of Joyva. The Joyva Tahini is a brand that is widely available in the USA, and like the first one mentioned, it is also widely available on the web. Unlike the Nuts to You, this brand of tahini is not good for every meal. It is mostly compatible with fish and vegetable dishes. You can also use it to dress some of your salads, depending on the ingredients you've used.
This sauce or paste is minimally processed. Each serving of it contains 200 calories, 18 grams of fat, but 0 milligrams of cholesterol. One serving will also give you 10% of your daily protein needs, 9% of your iron needs, and 4% of your daily fiber needs. All of these contain in two tablespoons serving.
This Tahini has great flavor and is usually compared with peanut butter. It sometimes has the same consistency of peanut butter but is not as oily. The only downside to this is that it gets hard at times, and would require you to use a food processor and water in order to mix it thoroughly.
The color of this is darker beige or close to caramel compared to other brands. It is thicker than other brands, would require more mixing. The flavor is a mix of strong nutty and roasted sesame flavor.
If you want a nutty flavor in your dishes, the Joyva would be your best choice. It is a product that requires a little patience when being mixed, but is worth the effort. I would rate this product 4.5 out of 5.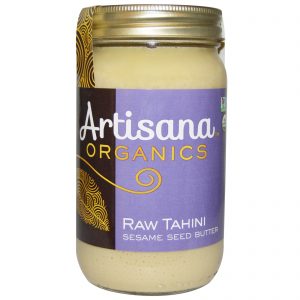 The last but not the least on our list is the Artisana Tahini. This brand is widely available in Canada and USA, and even to other countries. This is a pricier than most brands. The price is worth though, since finding a raw, uncooked and fresh one compared to other brands and is not an easy find. It is actually a specialized product.
The Artisana Tahini is actually top in this category. They utilize raw and organic sesame seeds. It has one of the highest fiber content, which 12% of your daily needs for each serving. The protein is 12%, calcium is at 13% and iron is 5% of your daily needs.
This is more bitter than most Tahinis. You have to accept the bitterness if you want to rip the benefits of something raw. They are good with rice cakes and can greatly complement butter. It has great consistency and texture.
The color of this is lighter than most or creamy beige. The texture is creamy and smooth. The flavor tastes like how raw sesames should be, a little bitter and creamy.
If you are a health buff or someone who prefers an organic diet, then the Artisana should be your pick. The price won't compare to how healthy this product is. If I could give more than 5 out of 5 for this product, I would.
Here you go, these are the Best Tahini Brands that you can try. Grab one now, and have a taste of the Middle Eastern cuisines. Be a sesame seed paste lover now.